In the latest speaker profile in our series, we sit down with Matthew Burgess CTA from McCullough Robertson who is presenting the Potential to bust-proof a trust? session at the upcoming SME Structures and Restructures in Brisbane on Thursday 27 February 2014.
Tell us about yourself
My passion is helping clients successfully achieve their goals. This is generally achieved through collaborative planning and implementation with accountants, financial advisers, risk advisers and other lawyers. For almost 10 years, we have done this on a fixed price basis.
How long have you been affiliated with The Tax Institute?
Since 1997, in one way or another.
What does the SME Structures & Restructures event mean to you, and more broadly, to the tax industry?
This event has enjoyed a leading reputation for many years and with good reason. I am therefore very grateful for the opportunity to be involved as one of the presenters in 2014.
What is the topic that you are presenting at SME Structures & Restructures?
Potential to bust proof a trust.
What can attendees expect to learn from your session?
While the technical paper should provide an excellent framework for future reference, the focus of the presentation will be on practical cases and examples.
What new or hot topics will you cover?
A number of recent cases (both publicly known and from client situations) will be addressed.
How will attending your session help delegates help their clients?
The practical focus of the presentation, reinforced by the technical content should enable all attendees to provide significant value back into their client base.
Which other sessions at the seminar are you most interested in attending?
The entire program looks very strong.
What do you like to do when you're not knee-deep in tax?
At the moment, a series of children's books (of which the four have now been published) provides a good balance. The website is at www.wordsfromdaddysmouth.com.au.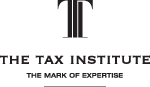 The Tax Institute is Australia's leading professional association in tax. Its 13,000 members include tax agents, accountants and lawyers as well as tax practitioners in corporations, government and academia.