Want to take the first step towards becoming a more successful businessperson?
The ability to understand the intricacies of tax in the modern world gives you the power to help organisations grow. That makes you a big fish in the office.
Watch our new video.
Study tax with The Tax Institute.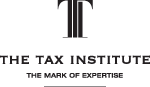 The Tax Institute is Australia's leading professional association in tax. Its 13,000 members include tax agents, accountants and lawyers as well as tax practitioners in corporations, government and academia.