The Chartered Tax Adviser designation indicates you've reached the pinnacle of the tax profession. A respected mark of technical excellence and professional integrity, Australian tax professionals who attain the CTA designation are regarded for their leadership and expertise at home and abroad, providing global mobility.
Don't take our word for it, hear from some of our CTAs.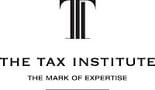 The Tax Institute is Australia's leading professional association in tax. Its 13,000 members include tax agents, accountants and lawyers as well as tax practitioners in corporations, government and academia.