Peter Bobbin, CTA, is presenting the Tax Issues on Intergenerational Change session at the 28th National Convention.
Peter discusses what the National Convention means to him, and
more broadly the tax industry, as well information on
the Tax Issues on Intergenerational Change session he will be presenting.
How long have you been affiliated with The Tax Institute?
I have been a member of The Tax Institute the whole of my career, and in fact now I can proudly say that I am a chartered member – which is something that I am personally quite proud of. With The Tax Institute I have given many presentations at a local, state and national level. But, importantly I have been attending many because it is one of the preeminent education providers to the tax industry in Australia.
What does the National Convention mean to you, and more importantly, the tax industry?
What the national convention does is it pulls together the hot topics of the time, into one place, into one setting, and you have the opportunity of the single most, preeminent tax minds in the country, all in the one location.
Of course the other thing it does is it allows you to get together with friends and colleagues and so for that reason the national convention is not only stimulation for the mind, but it is also stimulation for the soul, getting together with your friends and colleagues, all of us who actually love tax.
What topic are you presenting at the national convention?
The topic that I am presenting is "tax issues on intergenerational change". This is singularly very important. The vast majority of Australian businesses are in fact SME's, small to medium enterprise. The largest employer in Australia is small to medium enterprise. With the baby boomers moving through the generation change, with the generation Y's, generation X's, and generation I don't know thereafter coming along, intergenerational change is here to stay and it is massively replete with tax issues.
What I intend to do in the session I have is to grab the current hot topics, but also some older tried and proven ones, and to get across to all those that are attending my session just the key issues that they need to be aware of, that they need to introduce to their clients now whether it's an intergenerational change because their client is the one that's receiving from the parents or grandparents, or whether they are the ones getting it ready to pass on.
There is just an array of capital gains tax, there's transfer pricing in terms of passing of the value, that is, arms length transactions involved, there's GST issues subject to the nature of the business interest that is being passed. I am going to be looking at those major tax issues that exist in intergenerational change.
What other sessions at the convention are you most interest in?
There are four that I find of personal interest and am also very keen to here the presenters as such. One of them is David Williams and he is talking about getting caught up in tax fraud. Whether you are an accountant or solicitor or any other kind of adviser, what the client does – well we tend to leave that with the client – but we as professionals can be swept up, so I thinks that actually really very important.
Part IVA tax reform, Tony Slater's giving that one, I think that is a must attend. We have employee equity arrangements, again which is very much interconnected with my own intergenerational change tax issues. Employee equity arrangement by Ian Burgess I think is worthwhile attending, as well as Ken Schurgott's always a good one to listen to – taxing trust distributions. Given that trusts are the single most used investment and business vehicle in Australia, clearly Ken Schurgott's taxing trust distributions is an important one.
What do you love to do when you are not knee deep in tax?
When I'm switched off from work what I like to do – three great loves in life, good food, good wine and one other. So indulging – this is also why I ride a push bike most places. I ride a push bike to work, and have done rides from Sydney to Melbourne, and other rides for hundreds of kilometres. That's what I do outside of tax.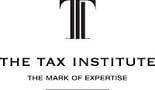 Join us in Perth for The Tax Institute's 28th National Convention. With an expert team of leading tax professionals shaping the content and a growing list of delegates who are amongst the best and brightest in the tax profession, the National Convention is undoubtedly the premier taxation conference in Australia.